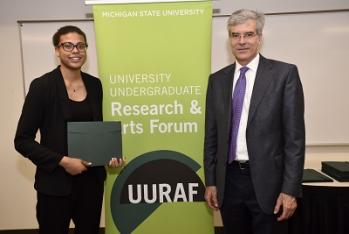 2016 UURAF Award Recipients
Over 100 MSU students won first-place awards at the 18th annual University Undergraduate Research and Arts Forum (UURAF), which took place on Friday, April 8th at the MSU Union. The event included nearly 900 students presenting 665 different programs from 14 MSU colleges. The students were mentored by over 500 faculty mentors from 16 MSU colleges. All first place winners were invited to submit their research project for the $500 Grand Prize award.
A full list of the award winners, including project titles and categories, can be viewed or downloaded as a PDF document here.
Download 2016 UURAF Award Winners-v2.pdf