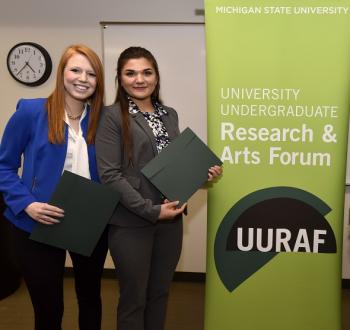 Grand Prize Winners Selected for 2016 UURAF
A documentary series capturing the life of Flint residents dealing with water contamination and research on the accessibility and nutrition of dry beans for human consumption have earned three Michigan State University students the Grand Prize for the University Undergraduate Research and Arts Forum.
Winners were chosen by faculty in two categories: Social Science, Humanities and Arts and Science, Technology, Engineering and Mathematics. The pool of entries came from the students who were awarded first place at UURAF, which was held in April.
Journalism seniors Maria Braganini and Kelley Waterfall won the SSHA Grand Prize for the work they did as part of "Faces of Flint," a collaborative project between WKAR and the College of Communication Arts and Sciences.
The two students worked alongside College of Communication Arts and Sciences associate professor Geri Zeldes.
Lyman Briggs senior Diego Crespo won the STEM Grand Prize for the research he conducted alongside College of Agriculture and Natural Resources assistant professor Karen Cichy and professional aide Jason Wiesinger titled, "The physiochemical and nutritional evaluation of fast cooking dry bean (phaseoulus vulgaris l.) genotypes grown in three locations in Tanzania."
More than 880 students participated in this year's UURAF – a record-setting number for MSU. Grand Prize winners each receive $500.
"It has been exciting to watch UURAF grow from 144 undergraduate students participating when it started 18 years ago to the over 880 students who displayed their research this year," said Doug Estry, associate provost for Undergraduate Education and dean of Undergraduate Studies. "The experience they gain from engaging in faculty research is something that will greatly benefit our students in their future career endeavors."