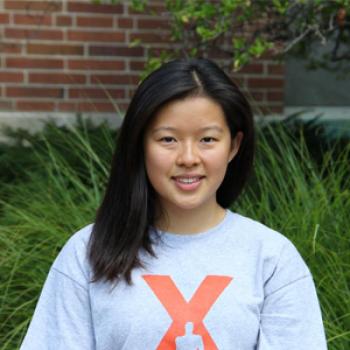 Undergraduate Research Ambassador named finalist for Rhodes Scholarship
Michigan State University had two finalists for the Rhodes Scholarship this year, including Irene Li, an Undergraduate Research Ambassador and an Honors College senior majoring in genetics and molecular genomics in the College of Natural Science and interdisciplinary studies in social science in the College of Social Science. The Rhodes Trust is the oldest of the major international competitive award foundations, providing 32 of the most outstanding undergraduates in the United States an opportunity to study at the University of Oxford in England.
Studying under Dr. Christina Chan, Irene uses experimental and computational tools in the lab to understand the biochemical pathways and mechanisms that lead to the spread of cancer. She says, "I'm extremely honored to be recognized as a Rhodes Finalist - through my research and coursework here at MSU, I've developed an academic and personal interest in cancer epidemiology and prevention. The link between smoking and lung cancer was actually discovered at Oxford, and as in many others it is a world leader in this field: continuing my studies at Oxford would be a realization of my investigations in this field."