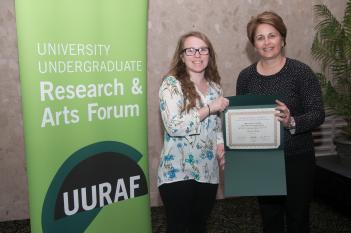 Grand Prize Winners Selected for 2017 UURAF
by Stephanie Cepak and Stepheni Schlinker
Michigan State University undergraduate student and a recent MSU graduate were awarded the Grand Prize by the University Undergraduate Research and Arts Forum for recognizable research.
Their research topics ranged from the long-term effects of a contraceptive vaccine used in animal population management to the connection of playing intramural sports to student retention.
"Since UURAF started in 1998, it has been exciting to watch it grow from 144 undergraduate students participating to the approximately 955 students who displayed their research this year," said R. Sekhar Chivukula, associate provost for undergraduate education and dean of undergraduate studies. "Engaging in faculty research is a unique experience for our students, which will benefit them in a variety of ways, in their future career endeavors."
Grand Prize awards were chosen by faculty in two categories: Social Science, Humanities and Arts (SSHA) and Science, Technology, Engineering and Mathematics. The pool of entries came from the students who were awarded first place at UURAF, which was held in April.
Olivia Child, an Honors College senior majoring in animal science in the College of Agriculture and Natural Science, won the STEM Grand Prize for her work titled, "The Effects of Porcine Zona Pellucida Contraceptive Vaccine on Equid Ovarian Activity."
Porcine zona pellucida extracted from pigs is a common contraceptive vaccine used in other mammals, such as horses and zebras. Child's analysis of ovarian activity between animals on PZP and those that were not displayed the necessity for PZP in managing wild horse populations in zoos and managed wildlife areas.
Associate Professor Dalen Agnew, who works at the College of Veterinary Medicine's Diagnostic Center for Population and Animal Health, oversaw Child's research.
Lauren Kosowski, a recent kinesiology graduate in the College of Education, won the SSHA Grand Prize award for her work titled, "Retention and Achievement of Sophomore Status Following One Year of Intramural Sports Participation In University Freshmen."
Professor James Pivarnik, who has dual appointments in the College of Education and College of Human Medicine, oversaw her research.
Kosowski's research found that freshmen students participating in intramural sports during their first year of college are more likely to stay in college after a year than non-participants.
Approximately 955 students participated in this year's UURAF – a record-setting number for MSU. Grand Prize winners each receive $500.
"The University Undergraduate Research and Arts Forum provides an opportunity for students to highlight their scholarly activities and gain valuable professional experience explaining their work to a broad audience," said Cynthia Jackson-Elmoore, dean of the Honors College.
"The faculty mentors and research teams who work with undergraduates are key to ensuring that MSU continues to excel in providing high impact learning experiences for all students."