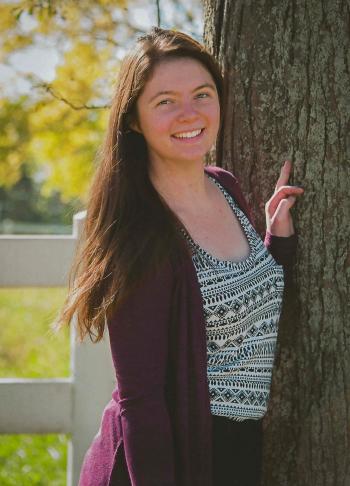 MSU undergrad Keelyn O'Brien receives American Society for Microbiology fellowship
Published September 19, 2017

By the College of Natural Science
Keelyn O'Brien, an MSU microbiology sophomore, is one of just 19 students nationally to receive a 2017 American Society for Microbiology Undergraduate Research Fellowship.
Keelyn O'Brien, a Michigan State University microbiology student and Alumni Distinguished Scholar, is one of 19 students selected nationwide for a 2017 American Society for Microbiology (ASM) Undergraduate Research Fellowship.
The ASM, a professional organization for scientists studying viruses, bacteria, fungi and other areas of microbiology, is the largest life science professional organization in the world with over 50,000 scientists and health professionals world-wide. The society developed the fellowship program to support undergraduates actively pursuing careers in the microbial sciences and working with an ASM faculty mentor.
O'Brien's project, "Investigating chemical and genetic mechanisms of antimicrobial production and resistance in a co-evolutionary arms race," earned the fellowship's $4,000 stipend and funding for travel expenses to the 2018 national ASM Microbe Meeting held in Atlanta, Ga. next June, where O'Brien will have the opportunity to present a poster of her research.
"I was very excited to receive this award," said O'Brien, a sophomore from West Chicago, Ill. "Pursuing a scientific career requires a lot of time and dedication, so to have someone recognize the potential of the project, believe in me and be supported financially is nice.
"I'll be near industry and government professionals and be able to network and see more of what I can be doing in my future," O'Brien continued. "It's an incredible opportunity and I feel very fortunate to be a student at MSU. I greatly appreciate all the time and effort that the graduate student, John Chodkowski, and my mentor, Ashley Shade, have put in. To take on an undergraduate to a new project is always a handful, and I am incredibly grateful to be doing this project with their guidance."
O'Brien's research began her first semester in the Shade lab. By plating two competing bacteria against each other over several evolutions, they found that later evolutions of the second bacteria were more equipped to kill or resist pressure from the first. O'Brien used her fellowship to spend the summer searching for the second bacteria's elusive inhibitor molecule that makes that resistance possible.
"We're very proud of Keelyn," said Shade, an assistant professor in the MSU Department of Microbiology and Molecular Genetics in the College of Natural Science. "Since joining our research team as a professorial assistant last autumn, Keelyn has exceeded expectations in the contributions that she's made to her project, which aims to address an important question about how the interactions between bacteria evolve given an 'arms race' of antibiotic production and resistance. The opportunity provided by the URF to present her research at the internationally-attended ASM Microbe meeting in 2018 will be priceless to advancing her career goals.
"One of the most rewarding aspects of my job is to mentor promising young scientists like Keelyn, and it feels great to know that many professional opportunities will be open for her because of the rigorous research experience provided by, and the prestige of, the fellowship," Shade added.
Download 2017-09-MSU-undergrad-Keelyn-OBrien-receives-ASM-fellowship_Keelyn%20O'Brien.jpg