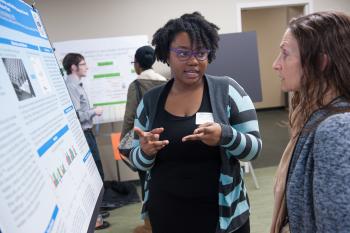 UURAF First-Place Recipients to be Recognized at Awards Ceremony
The 19th annual University Undergraduate Research and Arts Forum (UURAF) was held on Friday, April 7, 2017 at the MSU Union. The event was very successful with nearly 950 students from 14 MSU colleges and over 550 faculty mentors from 16 MSU colleges participating in this year's forum. The students presented 710 different programs, which included 140 oral presentations and 570 poster presentations.
The Awards Ceremony will take place on Wednesday, April 12 at 3:30 PM in the Union Ballroom. 144 students will be recognized for their first-place achievements during the ceremony, which is led by the Associate Provost for Undergraduate Education, Dr. Sekhar Chivukula, and the dean of the Honors College, Dr. Cynthia Jackson-Elmoore. Click here for a full list of award recipients and a digital version of the program book.
The summer undergraduate research forum will be held on Wednesday, July 26 at the Huntington Club in Spartan Stadium from 1:00 PM to 4:00 PM.