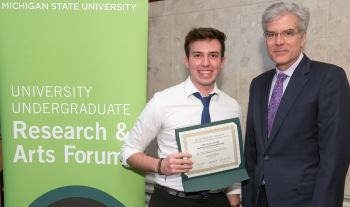 Grand Prize Winners Selected for University Undergraduate Research & Arts Forum
Research in the areas of molecular biology and language have earned Grand Prize awards for the University Undergraduate Research and Arts Forum, or UURAF.
"The opportunity to engage in advancing knowledge through an undergraduate research experience is one of the best ways to advance student success," said Mark Largent, interim associate provost for undergraduate education and interim dean of undergraduate studies. "These grand prize winners and their work are examples of the tremendously high-quality research our students undertake and we are very happy to honor them."
Grand Prize awards were chosen by faculty in two categories: Science, Technology, Engineering and Mathematics, or STEM, and Social Science, Humanities and Arts, or SSHA. The pool of entries came from the students who were awarded first place at UURAF, which was held in April. Grand Prize winners each receive $500.
"I'd like to congratulate these students and recent graduates for earning the Grand Prize UURAF awards for their research, as well as the faculty who lent their expertise and oversight to them during the research process," said Cynthia Jackson-Elmoore, dean of the Honors College.
Adam Fillion, a junior majoring in biochemistry and molecular biology, won the STEM Grand Prize for his work titled, "Specific Binding to Magnetic Nanoparticles as a Method of Mitochondrial Purification and Immobilization."
Fillion developed a microfluidics-based platform to study mitochondrial-dependent metabolism by the simultaneous detection of oxygen consumption and electrochemical current. His results suggest magnetic nanoparticles are a useful tool for immobilization of biological samples in microchannels without the need for specialized preparation procedures.
Department of Physiology Professor Julia Busik and Department of Chemistry Assistant Professor Denis Proshlyakov oversaw Fillion's research.
A team of four students won the SSHA Grand Prize award for their work titled, "How Talker Rhythm Affects Speech Understanding in Noise."
The group consisted of spring 2019 Honors College graduates Sarah Dec, Audrey Saggau-Drotos and neuroscience juniors Paul Clancy and Anusha Mamidipaka.
The group's research looked at the role of talker rhythm in understanding speech under difficult listening conditions. The results provide support for Dynamic Attending Theory.
Department of Psychology Professor J. Devin McAuley oversaw their research.