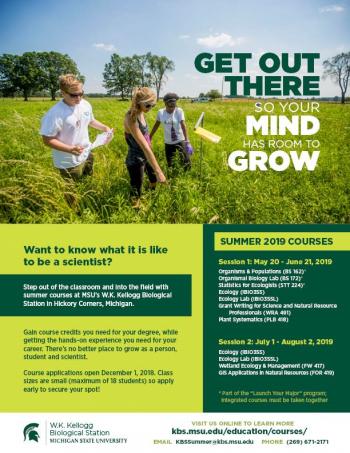 KBS 2019 Undergraduate Research Apprenticeship and Internship Programs
Kellogg Biological Station offers a range of opportunities for undergraduates at KBS during the summer!
KBS Summer Field Courses

KBS URA Program (Undergraduate Research Apprentice – paid research positions for MSU students)

KBS Internship Program (paid positions for MSU students throughout KBS)

KBS NSF REU Program (paid full-time research positions for non-MSU students)

Students have the opportunity to live at KBS and gain a wide variety of field and lab research experiences, new friendships, and professional references at a world-renowned biological station on beautiful Gull Lake. For more information, visit their website at http://www.kbs.msu.edu/education/undergraduate-program/.
For questions about the undergraduate programs please e-mail KBSsummer@kbs.msu.edu.