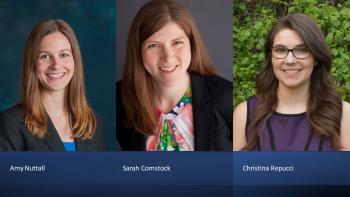 2021 Undergraduate Research Mentor and Supervisor of the Year Awarded
Dr. Amy Nuttall, assistant professor in the College of Social Science, and Dr. Sarah Comstock, assistant professor in the College of Agriculture and Natural Resources, were honored with the 2021 Undergraduate Research Faculty Mentor of the Year award for Michigan State University; Dr. Christina Reppucci, a post-doctoral research supervisor in Dr. Alexa Veenema's laboratory, was honored with the Undergraduate Research Supervisor of the Year award.
Two awards in the areas of science, mathematics, and engineering as well as social sciences and humanities are presented annually in recognition of those faculty members who have demonstrated an outstanding commitment to mentoring undergraduate researchers. An additional award is also given to a research supervisor who has demonstrated an exceptional commitment to mentoring. These honors were awarded virtually during the University Undergraduate Research and Arts Forum (UURAF) Award Ceremony. These awardees are exemplars of how faculty and staff contributed to student success.
Download 2021 Mentor of Year.pdf