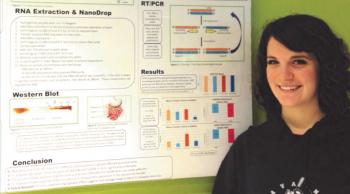 Faculty Newsletter Spring 2013
UR Posters Displayed in Neighborhoods
MSU is pleased to announce the Undergraduate Research Neighborhood Poster Showcase, which is a collection of undergraduate research posters created by current undergraduate students. Its purpose is to increase current and prospective students' awareness regarding undergraduate research and the benefits of engaging in a research experience.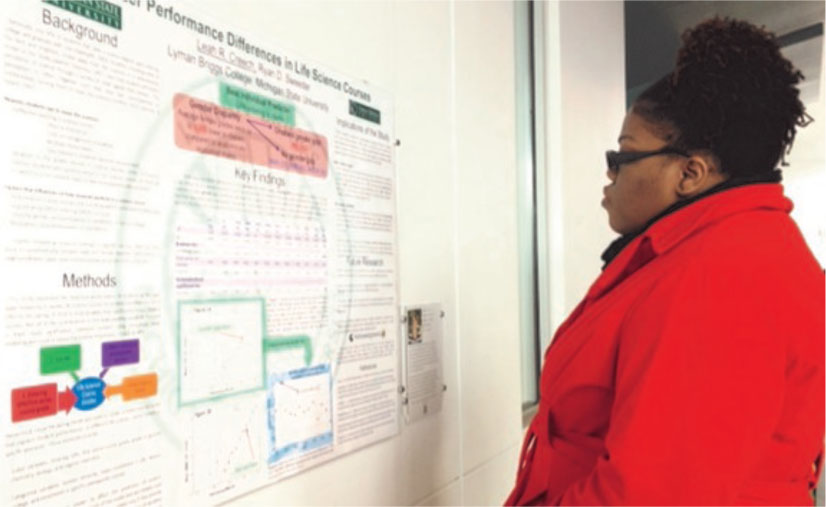 There are six permanent poster displays in Brody Hall and four in Hubbard Hall. The posters are rotated on a monthly basis throughout the year. The displays provide tangible examples of undergraduate research, while accompanying biographies capture in the students' own words how they became involved and have benefited from the experience.
The Brody and East Neighborhood Engagement Centers were ideal locations because of the high concentration of first- and second-year students living in those areas. The Neighborhood initiative helps students transition into college life by bringing MSU services and resources to where they live.
"The concept for the Showcase emerged when Dr. Jerry Caldwell, Director of the Charles Drew Science Scholars program, inquired if there was space in Brody Hall to display the research conducted by Drew students," explained Kelly High McCord, Director of the Brody Neighborhood Engagement Center. Kelly connected with Dr. Korine Wawrzynski, Director for Undergraduate Research, and they discussed where posters could be placed and the impact it could have on current students, prospective students and their parents, and campus visitors.
While the original idea focused on posters in Brody, interest spread to other neighborhoods. Reggie Noto, Director of the East Neighborhood Engagement Center, thought the concept could be useful for the students in her neighborhood. "We have a very high percentage of first-year students and I wanted them to see the way that undergraduate research can transform their academic trajectory." She noted that the posters help "make the academic culture within the Neighborhood more visible."
Students are excited to have their posters displayed. "I think it's a great way to expose students to what exactly it is you can do," says sophomore Rachel Brock, whose poster is displayed in Hubbard Hall. "The posters not only show results, but the steps taken to reach those conclusions. Discovering the process is just as important as getting results, especially if a student is new to research."
Contact the Undergraduate Research Office to have your student's research displayed.
To read the full newsletter, view the PDF attached below
Download Spring 2013.pdf