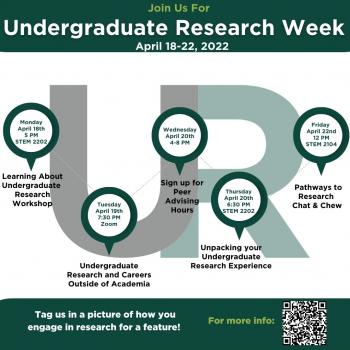 Join us for Undergraduate Research Week
Get ready to celebrate Undergraduate Research Week (URW) 2022 on April 18 - 22, 2022.
On November 16, 2010, the U.S. House of Representatives declared the week of April 11, 2011, as "Undergraduate Research Week." Since that time, CUR has designated a week in April each year as "Undergraduate Research Week." This is a national celebration in which CUR showcases what other campuses are doing to celebrate UR, congratulate students on their research, and thank those faculty and mentors who have helped guide the way for UR.​
To learn more about Undergraduate Research Week, visit the Council for Undergraduate Research!
---
Join us for the following events:
LEARNING ABOUT UNDERGRADUATE RESEARCH
APRIL 18, 5:00 PM — 6:00 PM, STEM BUILDING 2202
Make research an integral part of your MSU experience! Come learn about the opportunities available for involvement in research and creative activities at Michigan State. You can expect a short presentation, discussion, and Q & A facilitated by current undergraduate researchers.
UNDERGRADUATE RESEARCH AND CAREERS OUTSIDE OF ACADEMIA
APRIL 19, 7:30 PM — 8:30 PM, On Zoom

Panelists will engage in a conversation around careers students with undergraduate research experience can pursue outside of academia. If you are preparing to graduate or enter your third or fourth year of school and are engaged in an undergraduate research experience, then this panel is for you! Panelists will address how you can use your undergraduate research experience for non-academic careers.
Students may register using the following zoom link: https://bit.ly/panel0419
SIGN UP FOR PEER ADVISING HOURS
April 20, 4:00 - 8:00 PM, Virtual
Bring your questions about undergraduate research — no matter how big or small. While all conversations are welcome, ambassadors will be prepared to discuss how to contact potential research mentors and give feedback on email drafts to potential research mentors.
UNPACKING YOUR RESEARCH EXPERIENCE
APRIL 21, 6:30 PM — 7:30 PM, STEM BUILDING 2202

Have you thought about how the skills you are gaining through your undergraduate research experience will assist you in the future? Come learn about strategies for communicating your abilities to others, such as graduate schools and future employers. This workshop will include information about creating an elevator pitch related to your research and an opportunity for you to critically reflect on the skills you have built by being involved in undergraduate research. Come prepared to interact and engage with your peers about your research!
AMBASSADOR CHAT & CHEW: PATHWAYS TO RESEARCH
APRIL 22, 12:00 PM — 1:00 PM, STEM 2103

The URCA office will host periodic Chat & Chews throughout the semester. These will be informal conversations with Undergraduate Research Ambassadors on selected topics. Our next Chat & Chew will be a conversation on pathways to undergraduate research opportunities. More specifically, join us to learn more about our new program, Pathways to Research.