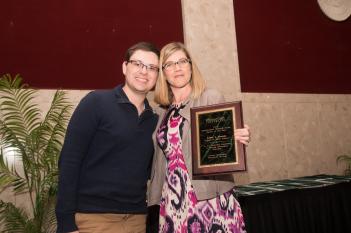 MSU Undergraduates Honor Faculty with Mentor of the Year Awards
By
Stepheni Schlinker
S. Patrick Walton, associate professor of chemical engineering and materials science, and Amber Pearson, assistant professor of geography, environment and spatial sciences, are both recent recipients of the annual Undergraduate Research Faculty Mentor of the Year Award.
Two awards are given each year – one to a faculty member representing science and engineering, which was given to Walton, and one to a faculty member representing the social sciences and humanities, which was given to Pearson.
Rebecca Carlson, an undergraduate student studying chemical engineering in the College of Engineering, and one of Walton's mentees, nominated him for the award.
"Dr. Walton is, without a doubt, the best mentor I have ever had," Carlson said. "He has been instrumental in my decision to attend graduate school next year, and I doubt that I would have decided to pursue a career in research without his mentorship. He has offered his support, both in my research and academic endeavors, at every step of my undergraduate education. He never fails to surprise me with his generosity in spending time mentoring me and other undergraduates and knowing how to challenge us to become the best students and researchers that we can be."
Ross Bottomely, an undergraduate student studying environmental geography in the College of Social Science, and one of Pearson's mentees, nominated her for the award.
"I am not only proud to be engaged in Dr. Pearson's research, but also to be able to call her my mentor," Bottomely said. "She is a highly qualified, highly disciplined and highly passionate professional intent on instilling in her students the widest breadth of skills with the finest attention to detail. All of us, under her mentorship, have had our lives changed for the better and will be able to covet more competitive positions in the future as a result of our experiences with her."
This award recognizes MSU faculty members who have demonstrated an outstanding commitment to mentoring undergraduate researchers.The award is completely student-driven, as only undergraduate researchers can submit nominations. The university's undergraduate research ambassadors review and select the finalists.
The awards were presented on April 12. Click here for more information about undergraduate research at MSU.