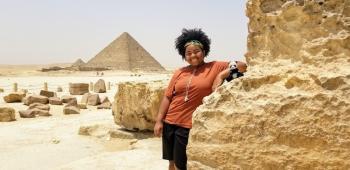 Mia White: Reflections from a SROP Student
Original article is published in the Undergraduate Education website.
"I think being a Spartan means seeing where the bar was previously and raising it," said Mia White, current Summer Research Opportunities Program, or SROP participant and incoming senior. Every summer between the months of May and July, a cohort of undergraduate students convene for the SROP, to take part in intensive research while learning about the benefits of graduate school. Students are provided stipends, free lodging and the opportunity to prepare for graduate school through this summer program.
With dreams of obtaining a Ph.D and working with underserved countries on their forestry needs, Mia knew that she wanted to gain some research experience. After discussing this with a former professor on campus, her attention was brought to SROP. While the benefits themselves, such as the stipend, free lodging and opportunities to present research might have seemed attractive, Mia was concerned about whether the program had enough diversity to make her feel comfortable. "When I first started doing research on this program, I assumed that it would lack diversity and it would be filled with people who aren't of color," Mia said. "I was dreading it because I'm always the only African-American in my classes and that's what I expected with this program but that wasn't the case."
With intensive research being a major component of SROP, participants are able to present their research on a local and regional scale. Mia, who studies forestry, already had a set plan for what she wanted to do after getting her bachelor's degree, but due to her experience with SROP, the vision for that plan has widened. "It's showed me that there's so much more for me to do after getting my degree," Mia said. "This program has given me the perspective that maybe there are more dynamics to what I want to do in life and how I'd blend my career interests and how I can help people more with whatever I do." Entering into her senior year, Mia is open to giving back to SROP in a unique way.
Aside from the intensive research, participants in SROP are granted the opportunity to interact with mentors who have attained graduate degrees. Through these networking sessions, the participants are able to ask questions related to graduate school. In the future, if presented with the opportunity, Mia would like to give back to SROP. "In the future I would want to be a facilitator to help students raise themselves to a higher standard," Mia said. "I would want to help push these students to be their best selves."
Currently, the Detroit native is conducting research on nutrient leaching duration with Professor David Rothstein. As her final year of undergraduate study approaches, Mia plans on conducting undergraduate research on firewood and continuing her current research on nutrient leaching and holding a student researcher position. When asked what advice she'd give to students considering the SROP program, Mia emphasizes self-care and time balance. "I think it's important for people to realize that you have to make time for yourself," Mia said. "It's so important to take time to relax."
Visit the MSU SROP website for more information on how you can apply to be a part of the program!