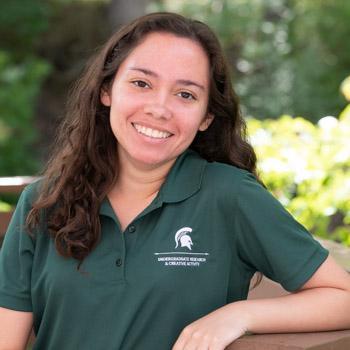 The MSU REPID Program: A Reflection by Melissa Bush
I first learned about the REPID program in the Fall of 2018 from an email sent out from the advisers at Lyman Briggs College, where I am pursuing my degree in Human Biology. I was in my junior year of school and had yet to engage in any sort of undergraduate research. REPID stands for Research Education Program to Increase Diversity in Health Researchers, and is a research opportunity for undergraduate students that takes place for about three months during the summer at Michigan State University. Specifically, the REPID program works to provide funding and training for underrepresented persons interested in conducting research in the fields of Cardiovascular, Pulmonary, and Hematologic disciplines. The program works to match you with faculty who study topics you are interested in and are related to these fields, which is such an amazing opportunity to see how real research is conducted at a university. One unique component of REPID compared to other summer research programs is that students take a preparatory class (MED 492) the spring semester prior which covers material like common laboratory skills, lab safety, what to expect at conferences, and so much more; it's a excellent opportunity to familiarize yourself with a research setting without having yet stepped foot in the lab. Even better is that tuition is covered as part of the REPID scholarship, and there are a variety of other professional development and networking events to participate in.

REPID was developed and directed by the amazing Dr. Elahe Crockett, one of the most dedicated and accomplished faculty I've had the privilege of working with as an undergrad. She really cares about her students and goes above and beyond to make sure we get the most out of our time spent in the lab. Learning with her through MED 492 made me very grateful for people like her who are committed to the success of underrepresented students in research. Looking back at my experience with this program, it's crazy to think that just a couple of lines in an email would end up changing the trajectory of my senior year at MSU so greatly. Personally, I was interested in applying for the REPID program because I wanted to know what it was like to do "bench work" research (there are other opportunities within REPID to conduct other types as well). I was specifically interested in learning what it meant to do "cancer research", since this phrase is relatively common but abstract for many people, myself included. I was fortunate enough to be placed into an immunology lab studying a type of cell called an iNKT (invariant natural killer T) cell, headed by Dr. Rupali Das. Her field of study relating to iNKT cells investigates their various properties and how they may be one day used as an alternative therapy to cancer. It was a very unique opportunity to participate first hand in research through REPID, and learn what it meant day to day to work in a lab.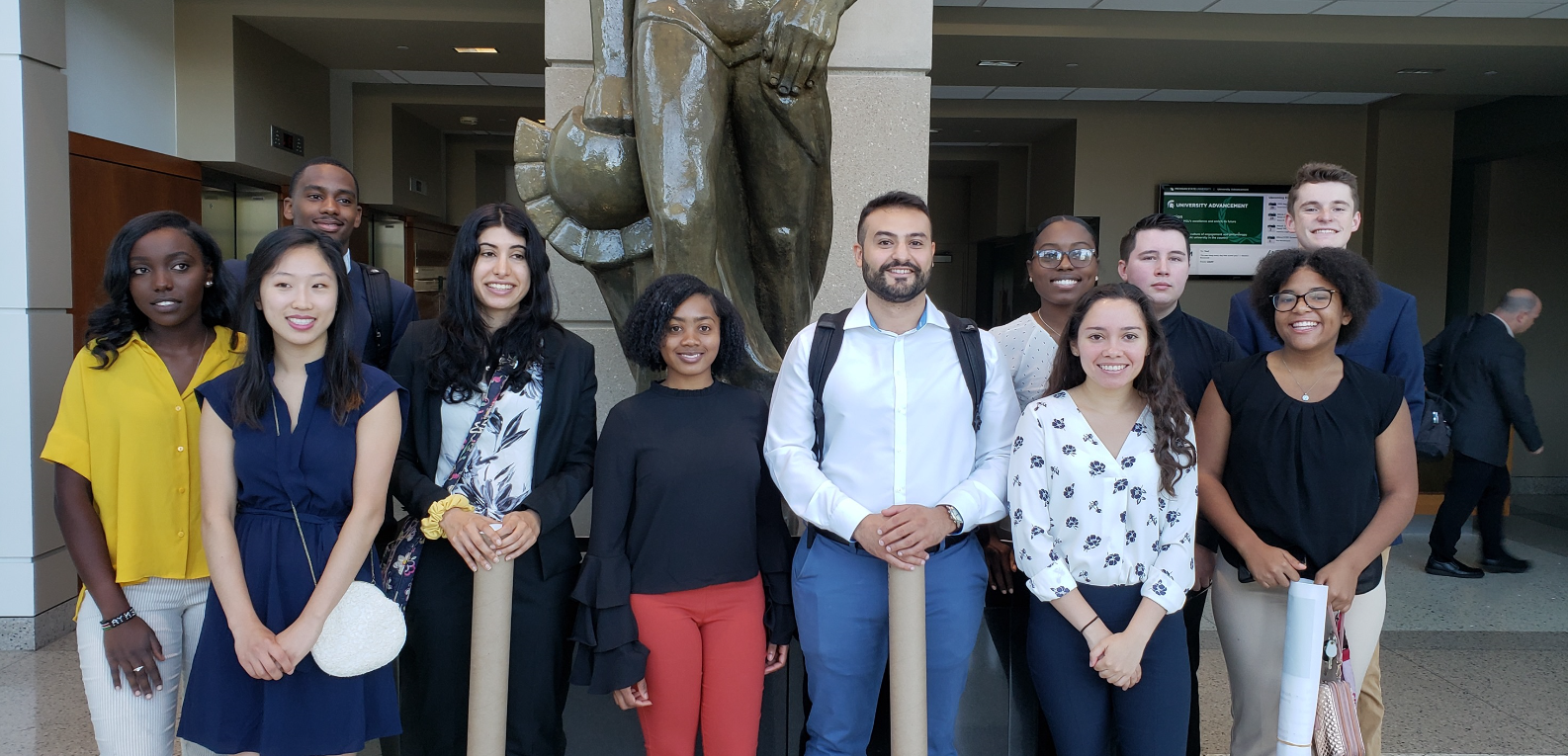 The 2019 REPID cohort shortly before presenting at Mid-SURE, held at the Spartan Stadium July 2019
Being a Human Biology student who's interested in going into medicine, there's a lot of obvious overlap and benefit from an academic perspective getting involved in research. I've learned a lot about immunology and the specific focus of Dr. Das' lab, in addition to various lab techniques like how to do PCRs, ELISAs, flow cytometry, and much more. Through participating in research, it's been rewarding to see what I've been learning in my classes be applicable to a real-life setting. I think a lot of the time as students we have an attitude of indifference towards what we learn in class and question why this stuff is important to know, because we just study for quizzes and exams and don't often have the opportunity to apply our learning. Being in REPID has been an awesome opportunity because I get to learn in a new setting outside of the lecture hall in a hands-on manner, and get to be involved in producing data that will eventually help Dr. Das and other members of her lab learn or discover things that no one else knows (hence the name "research"!) But learning in a research lab goes beyond just the science. I've made great strides in learning how to work with people from all different backgrounds, particularly with the Master's and PhD students in the lab. It's been inspiring to see their work ethic and learn so much from them on a daily basis. Contributing to a team effort like in research is a skill valuable for any career path, especially those interested in medicine or the healthcare field like myself. I've also gained professionalism in presenting my work; through REPID, I had the chance to present a poster at the Mid-Michigan Symposium for Undergraduate Research Experiences, also known as Mid-SURE. This was a great experience creating a poster to showcase the work I had completed over the summer and share it with students from all over Michigan, not just MSU students. It really allowed for me to get a feel for how research conferences work and understand how to navigate that type of professional environment.
One reason in particular I've been especially grateful to REPID is their commitment to working with underrepresented minorities in the research field. The National Institutes of Health, which funds REPID, have long sought to bring attention to the health disparities that exist amongst certain groups of people, whether by age, gender, socioeconomic status, or any combination of these things. Their mission is to support minority students who aspire to become researchers so that these disparities may be lessened, and more focused toward research that will improve health care and overall quality of life for minorities disproportionately impacted. Inclusivity in the research workfield is incredibly important because a greater diversity of backgrounds and perspectives in the lab drive scientific discovery. Though science is largely objective, we need diversity in research so that the right questions are being investigated with input from more than one subset of the population.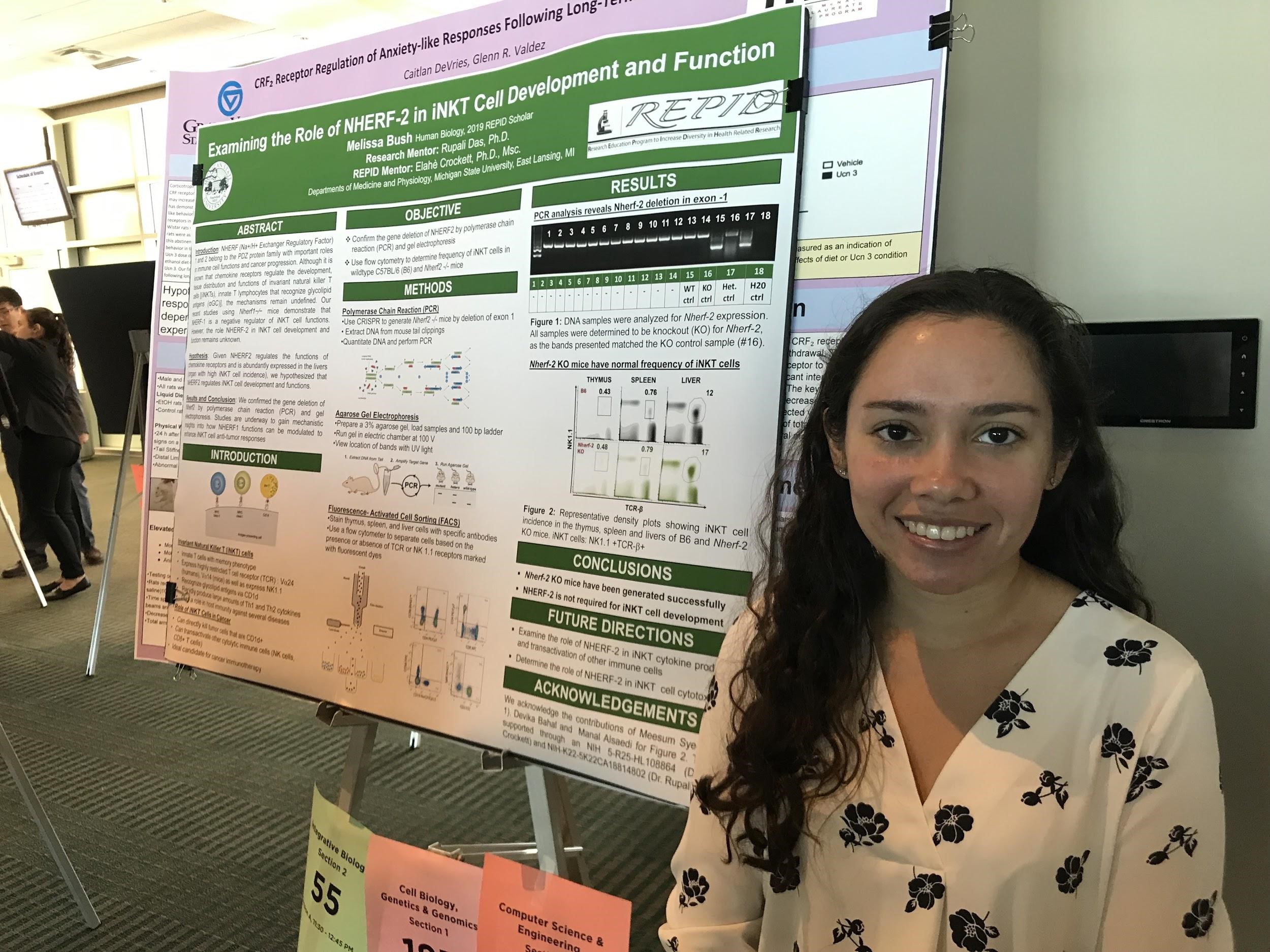 Presenting my poster at Mid-SURE 2019 created as part of the REPID program.
In addition to pursuing a B.S. in Human Biology, I will also be graduating with a B.A. in Spanish, which has privileged me to have a very interdisciplinary education. Throughout the REPID program, I've tried to maintain this same approach to research. While the curricula of these two degrees are very different, I've come to find more and more throughout my time at Michigan State that the sciences and the arts are interwoven entities. Science is largely empirical and driven by facts, figures, and data; research is all about making discoveries and answering unknown questions. But this process doesn't occur in a vacuum. Although science as a body of work strives to be as unbiased as possible, at the end of the day scientists are just people, with their own viewpoints, beliefs, and cultural upbringings. Understanding this diversity within the people who conduct research is essential to ensuring that the progress of biomedical research is inclusive of everyone. This is why I strongly value my degree in Spanish as well as Human Biology, not only for the language benefits and cultural understanding it provides, but also because I can apply these skills to working with others in a research setting. It's truly been an honor to participate in REPID, because it was founded on the same beliefs that I have grown to form about science and the value of being interdisciplinary. I couldn't recommend this program enough for anyone who is interested, as it's enhanced my undergraduate experience in so many ways!