ambassadors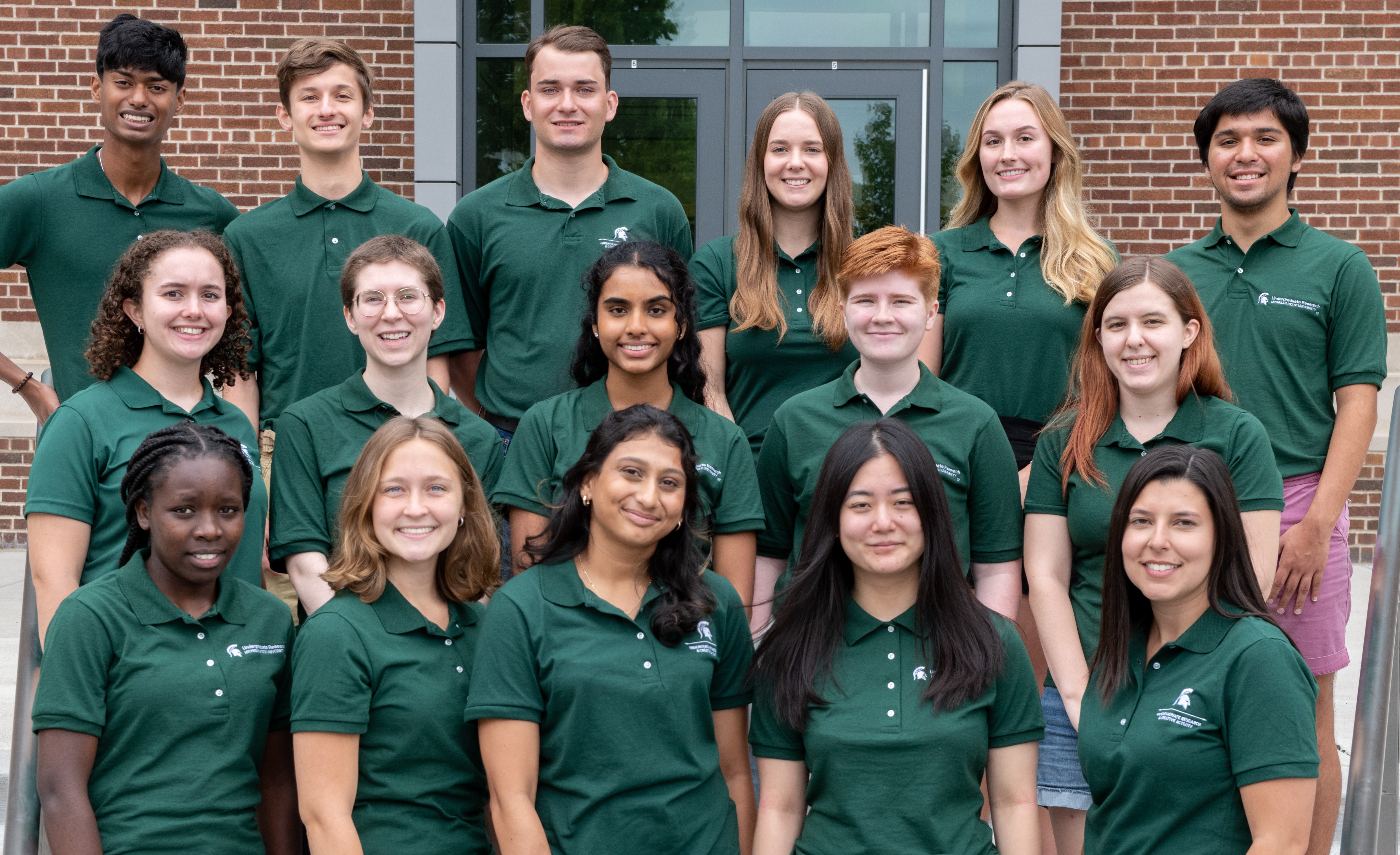 The Undergraduate Research Ambassador program prepares current undergraduate researchers to facilitate workshops, assist at UURAF, and provide feedback to the UR staff on current and proposed program offerings and facilitate peer to peer conversations around engaging in undergraduate research at MSU.
While the Undergraduate Research Office sponsors Ambassador-led workshops each semester, the Ambassadors are also frequently invited to present during class periods and student academic society meetings. Contact the Undergraduate Research Office if you are interested in bringing the Ambassadors to your class or to arrange for a group presentation.
---
Undergraduate Research Ambassadors host peer advising hours where they give one-on-one guidance to students for navigating research experiences. Learn more and schedule an advising appointment here.
---
*** Details for 2024-25 Undergraduate Research Ambassador applications will be available during the spring semester. ***
Undergraduate Research Ambassador 2023-2024 - Applications open March 15, 2023!
The Undergraduate Research Office is seeking applications for the 2023-24 Undergraduate Research (UR) Ambassador Program. UR Ambassadors are current undergraduate students engaged in research or creative activity in different fields of study across campus. UR Ambassadors facilitate workshops, assist at UURAF, and represent the Undergraduate Research Office at events and programs throughout the academic year.
The deadline to apply is Friday, April 14, 2023, at 11:59 PM. The application process has two rounds: (1) an online application form through Handshake (Application ID 6062587) and (2) an in-person interview. Candidates will be notified by Wednesday, April 19, 2023, if selected to move on to the second round. Interviews will take place during the week of April 24-28, 2023. Finalists will be notified of a decision no later than May 3rd.
Eligibility Criteria
Current full-time or part-time undergraduate student at MSU.
Involved in undergraduate research or creative scholarship for a minimum of two (2) semesters (a summer research experience qualifies).
Research presentation experience desired (i.e. UURAF, Mid-SURE, or other research/professional conference presentations).
Minimum GPA of 2.0
Submit a document answering the following questions:
Student Org Involvement
Please briefly describe your current or past research or creative project
Please describe what you have gained by participating in an undergraduate research experience. [Max 200]
Please explain why you are interested in serving as an Undergraduate Research Ambassador. What do you hope to gain from the experience? What strategies might you use to help explain the importance of undergraduate research experience to a general audience? [Maximum 200 words]
Ambassadors will deliver presentations about undergraduate research to other students. Please describe your past experience with public speaking and, more specifically, presenting your research. [Maximum 200 words]